We walked back into the docks in the morning and met Teresa (who was queueing to see Gok Wan !). We wandered round to the area by the lock and found Jim with his cannon. He was all dressed up in authentic clothing of the era.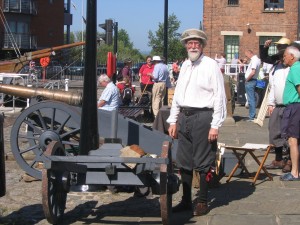 We got a text from Nikki to say that they were coming to Gloucester as well and would be there in about 40mins so we decided to walk back to Hempstead, get the boat and come back up to Llanthony pontoons where we could have a pumpout and top up the water whilst waiting for them.
They arrived while we were still pumping out. After we had finished we arranged to moor breasted up with another boat across the other side of the channel. Meanwhile Jim had fired his gun with a tremendous bang, which frightened Izzy!
We wandered around a bit more with Nik & Paul, showed them where the Gloucester Quays was and then decided that we ought to start back up the river.
I checked with the Llanthony bridge keeper that it was OK to go through and he said he would clear it with the lock keeper and we set off. Coming through the docks with all the activity was very different! We hovered in the centre for a while waiting for the lock to open, but it didn't. I called the keeper and he said to wait 20mins as there was a boat coming up. It was difficult to wait in the wind, so we moored up temporarily right by Jim's cannon.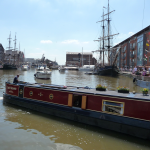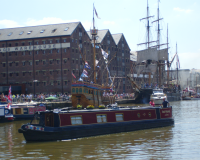 We intended to overnight at Lower Lode but there was no room, or at any of the other mooring spots below upper lode lock. So we went through upper lode and up the Avon to below the lock. It was busy with both narrowboats & cruisers and by 8 o'clock there wasnt any room and some late comers had to moor up three abreast. The weather was still hot and after a meal we went for a longish walk along the Avon and back through the town of Tewkesbury.
Saw a Mandarin duck on the way up the river to Tewkesbury.