Between Wychnor and Alrewas the Trent & Mersey canal crosses the river Trent "on the level", i.e. the two join and follow the same course for a few hundred yards. After a few days of heavy rain this stretch is prone to flooding. The weather forecast was warning of severe rain for today and tomorrow, so we decided that we needed to get across the Trent sooner rather than later. Even though it was raining quite hard we were up and away by 7:15. When we got to Wychnor the level was still in the "green" so we were OK. We arrived in Alrewas at about 9:30 cold and wet, so breakfast of porridge was taken with the central heating on!
Aldi fishermen's  trousers are brilliant! They are really warm, comfortable and waterproof. Good old Aldi.
We have been here all day. The rain has been really hard but has just about stopped now (4:00pm). We considered moving on for an hour or so, but have decided to stay put.
Over the last few months we have been considering getting the boat re-painted. The red sections in particular are looking rather scruffy. We don't really want red again, but couldn't decide what to change it to. We have been looking at other boats to see what we like.
I have mocked up rough views of what it would look like in two colour schemes we are thinking of. Have a look at the pictures below and vote for your favourite!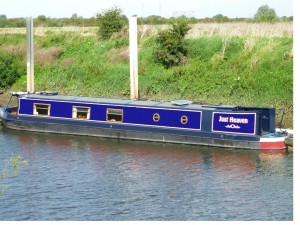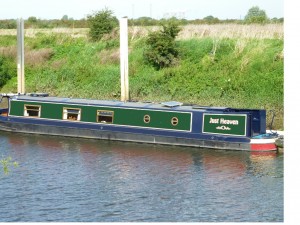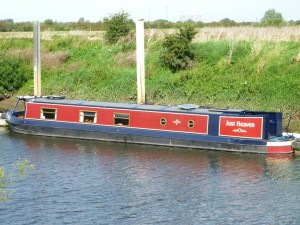 Please vote below (Click the pictures for a bigger view)