A lazy day today. We are booked in with the Keadby lock keeper for tomorrow's 8:00am tide. So we only had about 4 hours cruising to do. A bright, sunny day, but with a coldish wind, though not as windy as yesterday.
I think it must always be windy here as there a lot of these around!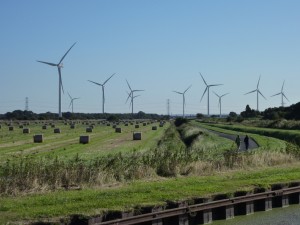 We arrived here about 12:30, had lunch then went for a walk to look at the village. The Nicholsons guide book describes Keadby as "dull". I think they were being generous. We decided that it deserves a prize for the least interesting place we've been for a very long time. So back to the boat to read books and chill out until the thrills of zooming up the Trent on the flood tide tomorrow!.