Sunrise at the bottom of the locks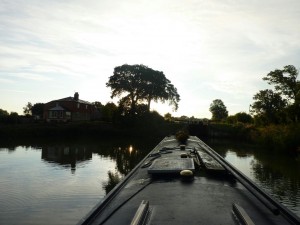 We left early to work through the first four locks up to No. 29. There were already three boats waiting. The flight was unlocked early and two made a start up before eight. We followed at 8:10 with NB 'Rosewood'. We made a good team and, even though we had to turn every lock, we kept up with the two boats in front. I had previously had an email from Terry Waldron who had offered to help crew for us. He arrived about 10ish, so with three on the ground and two steerers it made working one ahead a bit easier. We reached the top around  10:50.
Terry stayed for a natter and a cup of coffee whilst we topped up with water at the wharf. We were going to go shopping, but decided to carry on instead. A lock free ten miles took us to Pewsey for the night.
This is supposed to be a 'wide' canal, but in places it's decidedly narrow!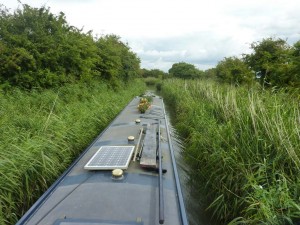 Very few boats about today, very different from went we came this way a fortnight ago.