For the last few days we have been having problems with the alternator. For most of the day it's been charging correctly, but as the batteries get full it suddenly raises the voltage to over 15v, sometimes up to 16.5v. After much discussion on the Internet with people who know these things it was decided that the regulator had 'gone'. So by making up and fitting a short lead I  disabled the domestic alternator, put a jump lead between the two battery banks and we are now running on one alternator.
The morning was spent in the town doing a spot of shopping. Then we set off about 11 and joined the queue through the narrow section to Trevor. Unfortunately the queue also contained the two party boats from yesterday, so progress was slow. Back across the aqueduct then we moored for a while and walked down below to get a better view.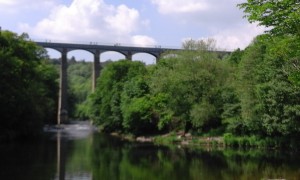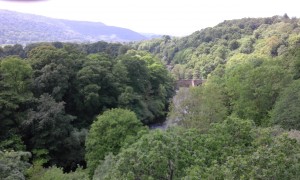 We then carried on to find a good mooring at Chirk where we had yet another barbecue in the lovely warm evening sunshine.