A day of various hold ups today. At New Marton locks we came up behind a hire boat with some Americans on board. This was their first ever lock, and they couldn't quite remember what they had been told by the hire company. So we helped them through. Later they pulled over to let us pass. Between the two locks we managed to get a tyre round the prop. Luckily it came off easier than I expected
Between bridges 16 and 17 there was a police diving team in the water. They asked us to wait about 45 mins whilst the finished "sweeping a section".
They wouldn't say what they were looking for, only that it was part of an 'ongoing investigation'.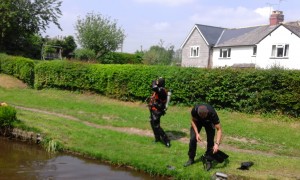 As we approached the Pontcysyllte Aqueduct we came up behind two hire boats all decorated with balloons etc.
It was a party of twentysomethings by the look of it. They were going very slowly and the helmsmanship skills appeared to be affected by some alcohol consumption. Unfortunately we had to follow them all the way along the very narrow section from Trevor to the Llangollen Basin.
We have seen many more boats today than any time recently. We had thought that the basin might be full, but there were several spaces. It's really lovely here.