The day started really cold and windy, but finished really warm and sunny.
A 7:30 start again. Quite a few boats about and by the time we reached Wardle lock we were in a queue of four. While Heddi looked after the boat I walked along to Middlewich Narrowboats to have a word with Sandra. She didn't have a new regulator, only a new alternator. But after a rummage in the scrap bin came out with an old alternator that I  could have for free and pinch the regulator from.
This is it: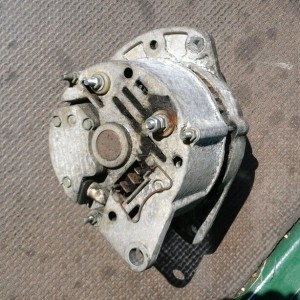 We stopped at Wheelock and I started to try and remove the regulator from the old alternator. Unfortunately I didn't have the right size spanners, or sockets, but with various pliers etc, the job was completed. Fingers crossed tomorrow it'll work!