6.5 Miles, 13 locks
It rained most of the night, but had stopped by dawn. We breakfasted and then were away by 7:30. The locks on this stretch come fairly frequent, about one every half mile. We did them all on own own except for the last two.
Many of the bottom gates were leaking so badly that it was difficult to make a level on the way up. For the first three locks we also hade to drop both the top paddles as some lazy, inconsiderate boater ahead of them had left them up. With some of the locks around here the instructions say to leave empty, with the bottom paddles up.
At Little Bedwyn lock we saw this field full of blue flowers. At first we thought they were thistles, but on closer inspection I can see that they aren't.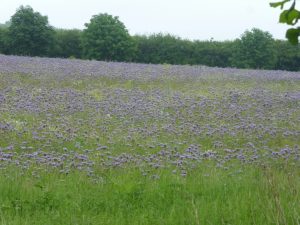 As we were coming up Potters lock I heard a steam train whistle and saw clouds of steam. The railway line follows the canal very closely along here, and at the previous lock is very near indeed, only a few metres away. But unfortunately where we were the line was obscured behind a line of trees. So we missed seeing the steam hauled Cornishman on it's way down to Plymouth.
When we got to Crofton pumping station I could see that it was one of their steaming days too. What a brilliant shot it would have been, a steam train passing the oldest working steam engines in the world. But sadly we missed it 🙁
Last time we came this way they were steaming at Crofton too. We didn't plan it that way, just a coincidence.
We moored up just before 1 o'clock, had lunch then went for a lovely walk past Wilton Water to Wilton village, which consists mostly of thatched cottages. The walk back to the canal followed an old Roman road. As we walked along the birdsong was amazing.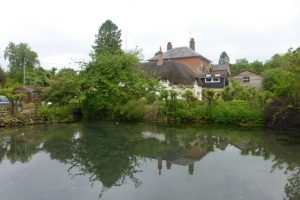 [Edited to add]
It seems the blue flowers mentioned above are probably Phacelia. These are grown by organic farmers to improve the quality of poor soil. (Our daughter contacted us with this information.)
Also after I'd blogged yesterday we went for another walk to see the Wilton windmill. It's a pity we had'nt been earlier in the day as it was open to the public until 17:00.