Sister in law Pauline was due to visit for lunch. As she would be coming via Gloucester and we would also be heading that way on Friday we decided go part way to meet her today, so we went up to Parkend bridge. Pauline arrived mid morning and we took her on a short trip down to Saul to top up with diesel. She even had a go at the helm!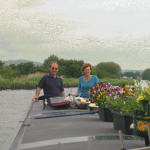 We came back and had lunch on the canalside in the sunshine. Just as we had finished lunch we saw coming up the canal one of the boats for the Tall Ships event, followed by an old lifeboat.


The weather was still really warm and in the late afternoon we went for a walk across the fields to Epney on the banks of the Severn and then back again across the fields by a different route.