In order to catch the 7:30 ferry from Portsmouth we were up soon after 3:00 and away by 3:45. The journey was made more complicated by overnight roadworks on the M4 which had we known about we would have taken a different route.
We arrived in France at 11:30 CET and set off for St-Martin sur Oust where we were to pick up the boat, a 1180FB Penichette.
With our gear loaded on board and the formalities done with the hire base, we set off. For the first evening we only went about 4km to Pont d'Oust.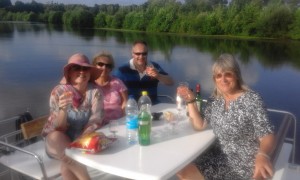 The next morning we awoke to a beautiful clear day.