We decided that, being a bank holiday, today could be busier than yesterday so moved up to Splatt bridge near Frampton on Severn where it was much quieter and there was a good mooring with plenty of space on the grass for barbeques etc.
About 11:00 daughter Nikki, son in law Paul and grandaughter Izzy joined us and soon after freinds Jo & Eric also arrived. We took them all for a short trip to Saul,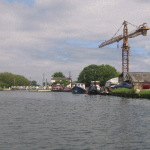 where we topped up with water, and then back to Splatt bridge where we had a picnic lunch on the grass beside the canal.
Eric hadn't been on a narrowboat before and didnt know what to expect, he was most impressed and is now hooked!
After they had all gone we decided to walk back to Slimbridge to retrieve the car. Instead of taking the towpath we consulted an OS map and worked out a route across country with part of the way following the old Cambridge Arm. It didnt go entirely to plan and we got lost a bit but we got there in the end!
We ate on our own in the evening in lovely warm sunshine.