A good day today, good progress (12 miles & 18 locks) and warm, but no too hot weather.
As usual we made an early start at just after eight o'clock. There have been very few boats about. We expected to share some of the locks, but we didnt meet another boat going our way so did them all on our own. We did meet a few boats coming the other way but not many.
Soon after setting off there were signs like these.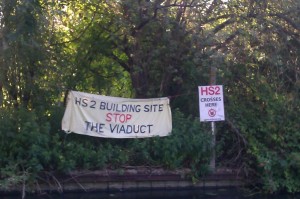 HS2 is not popular here abouts. It will cut right through the water park shattering the peace and tranquility. It seems to me the only people to benefit will be the construction companies, their toady politician friends and londoners. The rest of us will pay the price, both in money and loss of amenity. (sorry – rant over!)
North of Batchworth the canal goes through the very pleasant Cassiobury Park, a large area that was once part of the estate of the Earls of Essex.
Some people do really strange things to their boats