Another day that started off cold but warmed up later. By the time we got to Bratch it was gorgeous sunshine.
We stopped off at Compton to top up with diesel and gas at Limekiln and visit the charity shop and Daisy freezer centre. The afternoon was fairly quiet with very few boats on the move. I quite expected a queue at Bratch, but we waited for one to come out of the top lock and then we were straight down.
There were lots of fisher folk and picnickers around at the bottom, but we moored up in our usual spot on the non towpath side. At about 6 o'clock they all left, it was as if someone had blown a whistle saying "time's up!".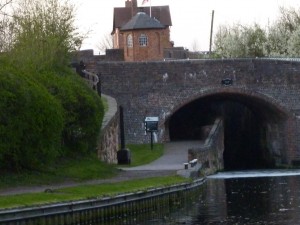 Heddi washed one side whilst I did a few jobs and then we both did the brasses. We were going to have our supper outside, but as soon as the sun went down it chilled off.