Only a short day today, so a lateish start for us at around nine o'clock. We hadn't been going long when, just after bridge 43, we noticed a large Sainsbury's store. It looked fairly new, but I don't know how we had missed it on the way up. It will prove very useful as it will no longer be as easy to call in on the supermarkets in Kidderminster as we used to.
We arrived at the new mooring mid afternoon. I spent a little while working out the best way to tie up and how to fix the fenders. I decided to clip them on the fender hangers below the gunnels. We dont usually use these as they arent always in the right place. Normally I use the ones which clip over the handrail, but these are easily stolen and can scratch the paintwork in left in the same place for a long time I think that I'll try to get some old tyres to fix to the bank like several of the other boats have.
.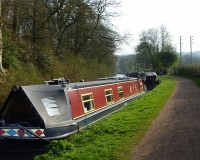 We went for a walk up to the High st. To work out which was the quickest way we went via the footpath through the horse fields and came back around the roads. The verdict – footpath : 20mins;  road : 17mins.
Heddi washed the other side of the boat whilst I fiddled about in the engine hole topping up the batteries and refilling the stern gland greaser.
We had an early night and were in bed before nine o'clock!