We are moored up on our new mooring at Kinver. We won it in a BW auction. Ours is the last one before Hyde Lock. It's much quieter and more pleasant here than in Kidderminster, but not so convenient for the shops.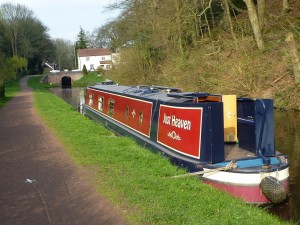 Last night was spent at the old mooring, and then this morning I had another go at mending the leak in the calorifier. After several goes at soldering over the leak I still havent sorted it completely, there is still some seepage. I think the next step is to take the calorifier out completely as the access is poor in situ.
Not long after we arrived here a woman came up and tapped on the window. "Are you planning to spend the night there?" We explained to her that we were the new "tenants". She introduced herself as from NB "Dancing Lady" and went on to give us lots of info about the mooring and the occupants of the other boats. It seems that there is a real boaters community here, which is something we didnt have in Kidderminster.