Nikki & Izzy surprised us by arriving about 10:30, we weren't expecting them until lunchtime. We decided to pop up to Saul to use the DIY pumpout machine. The tank wasn't full, but we have a week  with various guests visiting each day and it could be a bit awkward if the loo is out of action due to a full tank.
The weather was a bit variable today with cold and wet spells. Izzy loved feeding the ducks and swans (which she called ducks). If it was raining then she fed them through the window.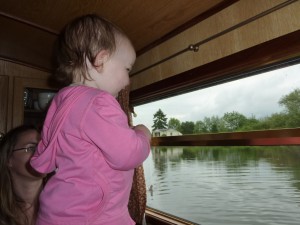 We took advantage of having Nik's car available and we all went on a trip to the new Sainsbury's in Dursley to stock up and to get a few thing for the barbecue planned for Thursday. By the evening the the weather had improved a little bit, but still not enough to sit outside so we had to eat in. Nikki & Izzy stayed overnight.