We spent the weekend chilling out, going for walks and doing a few jobs onboard.
On Saturday we arrived about lunchtime, then in the afternoon we went in search of the "Kinver Edge Farm Shop". We had seen several signs for it and a check of their postcode with Google maps indicated that it was just up Church Hill, a short walk from Kinver Lock. It isn't where Google says it is! It is actually much further along the lane, probably about half a mile further. When we got there we were very disappointed. We are used to farm shops well stocked with a range of local produce and other goods from small rural producers, but all they had was a few vegetables and a freezer with some sausages in. It is much more of a PYO place with a small cafe. The walk wasn't wasted however as we saw parts of Kinver Edge and decided to come back for a proper visit the next day.
Sunday:
Set out for Kinver Edge again and did a lovely walk taking in the open heathland and the wooded section below the Edge. We will definately be back for more exploration of this wonderful natural asset.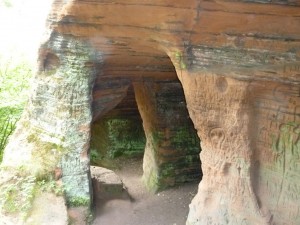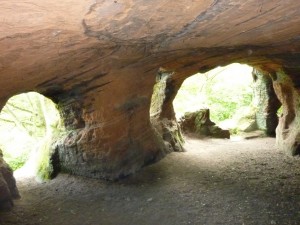 We were talking to some other local moorers who said that they had witnessed boats hitting our boat as they were coming in to the lock. We also saw some near misses whilst we were on board, so I have decided to get some tyres to put down the side of the boat in the hope that this will encourage passing boats to keep further away from us.
After our evening meal we again did the walk down to Whittington Horse Bridge and back, this time in the opposite direction.
Monday: Another walk today. This time up the towpath to Stewponey lock and then back along the footpath through Primrose wood. Then back home in time to pick up the grandchildren from school.