The sky was clear and blue as we set off for our first trip up the Avon. After about an hour we met our first Avon lock at Strensham. The approach was a little odd with a swing footbridge across the entrance. We also had to get used to the fast flowing weir currents and the Avon convention of leaving the exit gate open.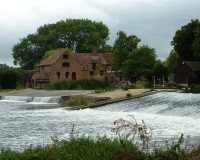 I was a little concerned about finding mooring places as we had been warned that they were in short supply. So the first task was to find somewhere for breakfast. We came under Eckington bridge to see two narrowboats at the wharf with just about enough space for us to squeeze in on the end. We had to tie the bow rope on to a nearby tree root as we were off the end of the moorings proper. On the reach from Nafford to Pershore we saw a black swan. These are native to Australia, so i assume that this one is an escapee.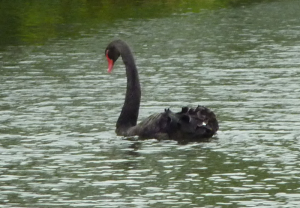 We shared Pershore and Wyre locks with a GRP cruiser. The guy from the cruiser was rather paranoid that we might damage his boat. I can understand him being wary, but with a crew of four we had plenty of hands to ensure that we were roped up correctly.
The cruiser stopped soon after Wyre lock and for the rest of the day we did the locks alone. I was pleased to see that there more mooring places than I had been led to believe. On the lower Avon these are all marked with blue posts.
We moored for the night at Workman Gardens in the centre of Evesham.