Overnight the river rose more and was now in the red on the gauge. Teresa & Lindsay needed to be at Tewkesbury by early afternoon. It looked very unlikely that we would be able to make that so, reluctantly they ordered a taxi to pick them up at noon. Meanwhile we took a walk up the hill to have a look around Pershore College garden centre.
Across the road between the old bridge and the new bridge there is a picnic site with toilets. On the wall of the toilets is a plaque showing the level of the floods in 2007. This was as a result of a single day's rain!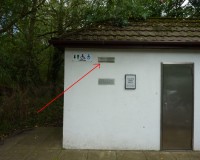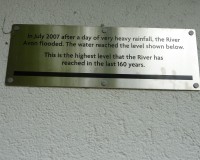 The building is over ten feet above the normal river level so the water must have been about twenty feet above normal.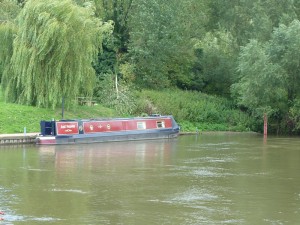 After T & L had left we walked into Pershore again to do some food shopping as we thought that we might be here for several days. The level continued to rise until about four o'clock when it started to fall. In the evening there were a few boat movements. Four narrowboats from Braunston, who were travelling togther, came up the river. They were pushing hard against the current and making slow headway. Later at about 6ix o'clock The Black Prince boat "Robyn", that we had shared the lock with yesterday, came downstream. As they went round the corner the boat was taken sideways by the current. I wouldn't want to do the Swan's Neck like that! I suppose they had to get back to the hire base on time. We had an early night as we had decided to make an early start the next morning to try to get up at least to Worcester.