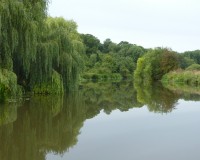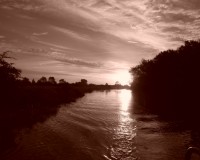 The river had changed completely, smooth and as flat as a millpond. We were away by 6:20. We weren't the only early birds as we shared Strensham lock with another narrowboat, but they were only aiming for Tewkesbury. We made good progress and got to Tewsesbury by 9:30. When we got there the BP boat "Robyn" was moored up with the occupants apparently still in bed. Why did they risk the river in the red last night if they weren't in a hurry? We were out onto the Severn just after ten o'clock.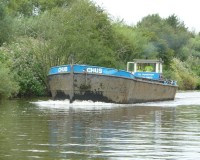 Until then the weather had been good, but almost as soon as we were on the Severn it started to rain, lightly at first, but then heavier and heavier. At Worcester we took on water and grabbed a bite to eat whilst it filled, then pressed on as we wanted to get to Stourport in case the Severn level came up overnight.
We got to Stourport about 5:30 by now the rain was really heavy, we were cold, tired and wet having been travelling for 11 hours, 7 of them in the rain. There was just enough space on the floating pontoon visitor's moorings so we moored up and had hot showers and a glass of wine.
A little later on a Viking Afloat boat came down the staircase locks onto the river. They could see that there wasn't room for them on the pontoon unless they overlapped into the "reserved for lock use" area. They were reluctant to moor there overnight, but it was nearly dark, raining very heavily and there wasn't really anywhere else for them to go. I said that in their position I would moor up and if a boat came along to use the lock invite it to breast up with them. However another boater told them that they couldn't stay there so they went off down river. About 20 mins later a Black Prince boat came up river and moored up in the same place and stayed there all night!