We were up fairly early as they re-fill the dry dock at 8:00, were were told to be ready to go in by 9:00. We moved round to the pontoon above the first staircase to await instructions.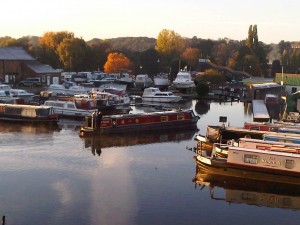 There was a bit of boat shuffling as two have to come out and two go in. Also a hire boat arrived during the maneuvers and wanted to go down onto the river. By ten o'clock the lock was drained and we were high and dry. It's an odd feeling walking around on the boat when it doesn't move.
David from Limekiln then did a really good job of pressure washing the boats. He used a big industrial pressure washer which removed all the mud, barnacles & crud.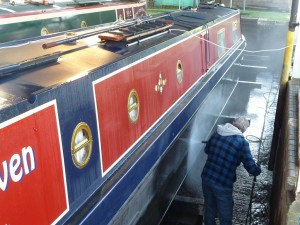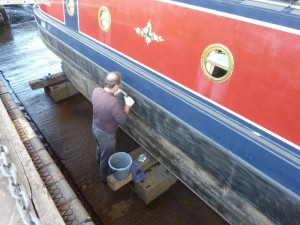 It was a warm sunny day and the hull dried off fairly quickly. After it had dried we started wire-brushing. We spent the rest of the day cleaning scraping and wire brushing the whole hull.
With tired and aching arms we retired to Andrew & Sheila's apartment which they had kindly lent us for the duration of our stay in the dry dock.