Queues, queues and more queues!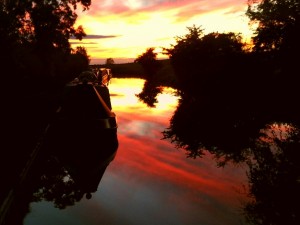 Last night's sunset.
We started off at just before 7:30. It was a bit chilly but very pleasant climbing the Napton flight. We haven't  been this way for 11 years. The top pound below Marston Doles was almost empty, with only just enough water to bump along the bottom.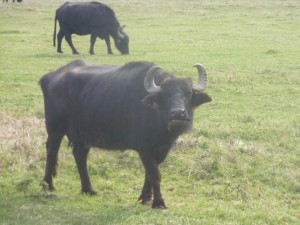 Water buffalo in Warwickshire!
The summit pound of the Oxford canal is renowned for it's twists and turns and it was fun to make our acquaintance with it again. Unfortunately we were behind a very slow Kate Boats hire boat. After a while they pulled over and let us overtake. It wasn't long before we came up behind a fairly slow private boat. We had to follow them for the next 2 hours. At the top of the Claydon flight we stopped for lunch to allow them to get ahead of us. There were lots of boats about and as we came down the flight we met several returning from the Fairport festival at Cropredy. It was easy to spot them, a certain sort of boat, distinctive dress and the unmistakable whiff of "herbal tobacco".
The last three locks took nearly two hours as a queue built up. This was a combination of one lock taking a long time to fill because of leaky gates,  some inexperienced hire boat crews and 'sheer volume of traffic'.
We arrived in Cropredy at about 4:30 and found somewhere to moor. It was not ideal as we need to leave the boat here for a week and I was hoping to use steel piling to moor up to, but there are only soft banks which makes getting pins in securely rather difficult.
We had thought of going to the pub for a meal, but of the two pubs, one is shut and the other isn't serving food. They are both exhuasted after the busy time of the festival. So supper was concocted from what we could find in the cupboard, and very good it was too!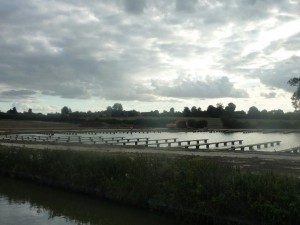 Our new mooring is in there somewhere !