Well we are here at last!
It's been a really great day, the weather has been warm with blue skies, though the strong wind hasn't helped at times.
We set off around seven and descended the Widcombe flight in Bath. One of the locks here is 19 feet deep, making it one of the deepest in the UK.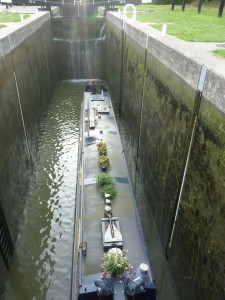 The river Avon from Bath to Bristol is really attractive. For much of the way it runs in a wooded valley. You wouldn't know that you are close to major settlements at all. We saw lots of herons and kingfishers, but the kingfishers were too quick for a photo!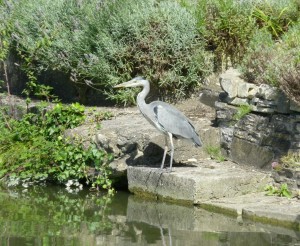 There are seven locks on this section, unfortunately we managed to get behind a couple on an old wooden cruiser style boat who had little experience of locks. This slowed us down quite bit, but we eventually arrived at half past two. We stopped at Netham Lock to pay for our licence as the docks are under the authority of the City Council, not C&RT.
Coming into Bristol via the river was rather strange. I wasnt always sure of where we were, things looked familiar, but different.
We are now moored on the visitor's pontoons by the Arnolfini right in thr heart of the Harbourside area.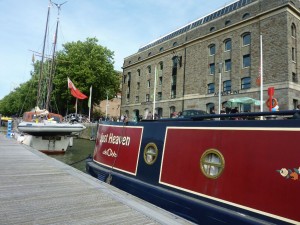 As we were coming into the docks we got a phone call from daughter Nikki. She was in the area with Paul and the girls, so they came to visit. Later Heddi got a Facebook message from her former school colleague Julie, she and husband Tim were also nearby, so they popped in for a while.