After two excellent days chugging with Uncle Mort they turned right at Napton junction to head off towards Warwick and we continued along the Oxford.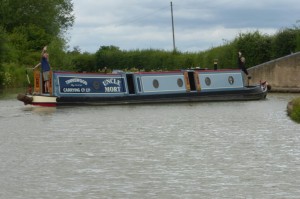 After the first three locks of the Napton flight we were in trouble – the throttle cable had broke. This is a problem with our boat. It seems to be a design fault of the 'Morse' control. The cable is continually being bend one way and then the other as you go from forward to reverse, so it eventually snaps. This is the fourth time in eight years. I always carry a spare.
As I went to fit the new cable it was apparent there was a problem. It didn't seem to be long enough. The cable should be 2 metres. When I bought the last one, after the cable broke on the K&A, the guy in the chandlery said "we do a six foot one, but it's really the same length". It isn't!. I had to re-route it over the exhaust pipe and across the top of the engine to get it to fit. It's not ideal, but we're going again. I'll replace it as soon as I can get another 2m one.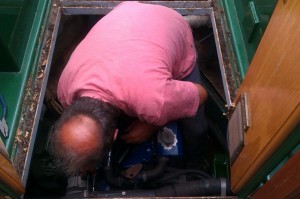 The wind has been a problem all day. Down at the Bruanston level it was nor too bad, but as we climbed up to to the summit it became worse, making naviagtion in a straight line very difficult.
The Napton flight was busy, we met another boat at almost every lock. But since we moored up near bridge 123 we have only had three boats go past.