11.5 miles and 0 locks.
Just a very pleasant chug along the 15 mile 'long pound' towards Devizes today. We arrived here about 11:30, but didn't go down the flight as our crew, in the shape of two of our grandsons, is arriving tomorrow evening. We'll go down the flight on Friday.
We encountered quite a few herons today. Unsually they weren't too timid and stayed long enough to be photographed.
This part of the canal goes along the Vale of Pewsey, from where we got a glimps of the Pewsey White Horse. Though it looks grey rather than white!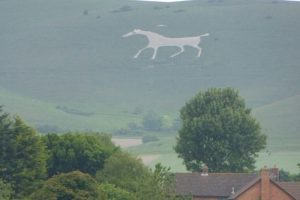 We moored up just down from the wharf on the opposite site. Across from us is what must be the most inconvenient 48hr mooring in the country!

It's just a solid brick wall, with no means to get off of the boat!

48hrs, I wouldn't want to spend 48mins here!
Two trips to Sainsbury's to get food for our guests for the next couple of times. It's quite a walk from here, but we couldn't carry it all in one go.
After supper we went on a walk down the first six locks to where we were stuck for 5 days 4 years ago when a hire boater smashed one of the gates.