22 miles and 9 locks
It had been raining almost all night but stopped at around 8:00. We set off at 8:15. For most of the day it was cloudy and cold, but after we had moored up for the evening the sun came out and it was really warm.
We met more boats tooday than we have for the rest of the Thames cruise. To start with mostly narrowboats, but after Bray it was mostly GRP cruisers.
We have spent quite a bit of time checking out  the very expensive looking houses fronting the Thames on this stretch.
Here is one of the most expensive: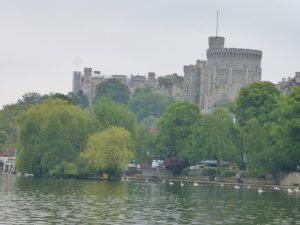 We have found a really lovely mooring just above Shepperton lock. It's very convenient as tomorrow morning we are expecting our daughter Nikki and her family to join us for the trip up the river Wey and back.