12 miles and 10 locks.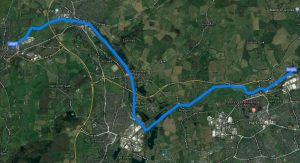 The river Stort is lovely. Very peaceful, very rural and windy and twisty. The only problem is moorings. Most of the banks have high reeds and foliage so it's difficult to find anywhere, and the places that are suitable are already taken with more or less permenant moored boats.
We set off just after eight o'clock, stopped to top up the water at Hertford services and then headed to Hertford lock. It was about an hour later that we emerged from the lock! The lock wouldn't fill to make a level. There appeared to be be something stuck under one of the bottom gates so that it wouldn't close completely. The unofficial lock keeper who lives in the  lock cottage came out to help. We re-emptied the lock to see if we couls flush out whatever it was, but that seemed to make no difference. The guy from the lock cottage called C&RT, but thought that as it was Sunday it may be quite a while before anyone attended. We re-filled the lock and with the help (and muscles) of a passer by we managed to force open the top gate. So we were at last on our way.
Back down the Lee to it's confluence with the Stort then up the Stort. By mid morning it was getting very hot. We managed to find somewhere in the shade to stop for a late lunch, and then finally stopped around 3 o'clock between Bailey Bridge ( which is a WWII era "Bailey" bridge) and Latton lock. The mooring is one of the most unusual we have made. We chose it as it was one of the only reasonably straight, deep to the edge bit we could find.
Just by chance we found a bench and a mown grass area nearby, so it was perfect for a barbeque. The only real problem is that we seem to be on the take off flight path from Stanstead Airport. We have about one plane come over every two or three minutes, the majority of which are Ryan Air.