A much warmer day today. When the sun came out it was very pleasant.
Quite a few more boats about than yesterday. We met one at almost every lock. We followed an Australian couple on a Black Prince hire boat up through the Stone and Meaford locks, but they then stopped at Barlaston. Near Barlaston there were fields and fields of geese, several hundred (not exagerating!)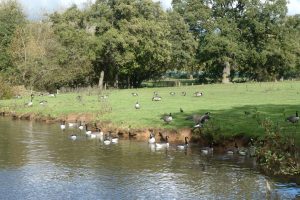 Our target for the day was tne top of Stoke locks at Etruria, which we reached just after 3 o'clock. As it was still early and the weather was ok we decided to carry on to Westport lake. We have moored there before and liked it. Just after we left Etruria there was a heavy rain/sleet storm! It didnt last long and we were moored up by the lake at 4 o'clock.