A really good days boating. 10 miles and 26 locks, mostly in lovely autumn sunshine. There was quite a hard frost overnight.First thing this morning it was still freezing enough to make the ropes solid.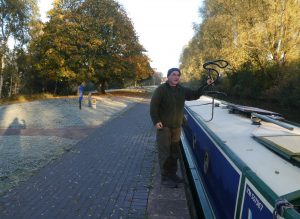 We set off at 8:00 to get to Harecastle tunnel by 8:30 when the tunnel keepers come on duty. It was cold and frosty, even our ropes had frozen hard.
The tunnel was entered at 8:50 and we emerged the other end at 9:20. After dropping down the first three locks we stopped briefly to top up the water at Red Bull services.
Many of the locks down this section are paired, so there's a good chance that one of tne two will be set right for you. We were very lucky. None of the locks had to be 'turned'. Some had to be topped up due to leakage, but none filled. It was very quiet boatwise, we only passed three boats all day.
The plan was to go to the chippy in Wheelock as recommended by the tunnel keeper. But when we got here we found that it's closed. So we're off to the pub, The Cheshire Cheese, instead.