A few boats about today, but not as many as yesterday. It was strange doing the Bratch locks all on our own with no lock keeper, no gongoozlers and no other boats.
The weather was a bit warmer, but still cloudy.
We noticed lots of Little Grebes on the canal today. We saw four in the space of a few hundred yards. It was odd as we probably saw more today than in the whole of the last 10 years of boating put together! No pictures though as they dive under and swim away as you aproach.
BW have been doing a lot of tree felling and clearing along this stretch and the local boaters have been taking advantage of the free firewood. Unfortunately we dont have a saw or axe onboard so I cant reduce the logs to a size that will fit in the stove.
.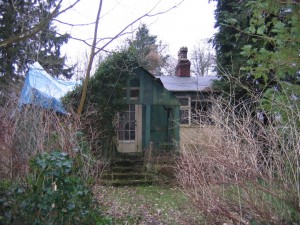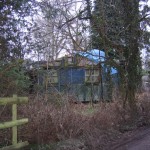 Stopped for the night just above Hyde lock, and walked into Kinver via the footpath by the playing fields. This route takes you through "The Hyde" a small collection of wooden cabin like dwellings at least one in a very poor state of repair. I've often wondered about the origins of this community.
Unbeknown to us Geoff from NB Seyella snapped us as we came into Kinver, you can see his photo here