Only a short way today, just 2 miles & 3 locks. This morning we went on a walk to the pretty village of Trysull. We went up to Awbridge lock. Then along the lane and across the fields to the village.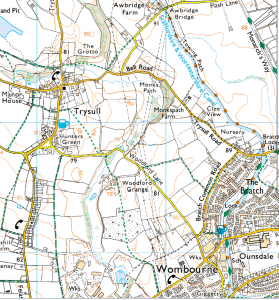 After turning left at the church we picked up a footpath that led via Woodford Grange to come back to the canal at Giggetty bridge. A very pleasant walk in the sunshine. The only problem was a marshy area rather oddly on the top of a hill.
After lunch a short chug down to Br 43 and a quick shopping trip to the new Sainsbury's.
Through the Botterham staircase then round the corner to moor for the night just above Marsh Lock.
We chose here as we thought it would be a good place to try tuning the new TV for the first time. However it said no digital signal. Haven't they gone digital in this part of the world yet?