A weekend of odd jobs in preparation for the trip down the Severn to the Gloucester & Sharpness later in the month.
We had planned to go camping this weekend in the new tent, but the weather forecast is for rain Saturday and thundery showers Sunday, so we decided to do a few jobs on the boat instead. The first job was to finally finish the new perspex panel for the side hatch. We needed a replacement since Heddi put her head through the previous one which ended up at the bottom of the river Avon! I have made a new one with a hardwood frame, which should make it less flimsy. It's been a long time in the making with the various components and tools carried backward and forwards between home and the boat. After much fiddling we eventually got it to fit OK.
The next job was an engine oil change. This went smoother than I expected. I had brought an old 5L container for the old oil, but there was just over 6L, so I had to find something else for the rest. An empty 2L cider bottle did the trick.
Whilst I was busy in the engine hole Heddi cleaned one side of the boat. The whole boat looks a bit dirty after the winter, but the other side will have to wait until that is towpath side. The forecast was partly right, it rained heavily overnight, but Sunday was warm and sunny.
With our jobs finished on Saturday, we decided to go for a walk on Sunday. We drove a few miles to Pedmore, just outside Stourbridge. There we did a 4.5 mile walk from the AA book "100 walks in the Heart of England". It was really lovely. Close to industrial Stourbridge, but actually very rural with some stunning views across Worcestershire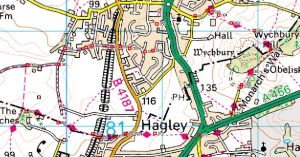 The afternoon was spent a bit lazier. I cleaned out one of the rear lockers in preparation to painting it next trip. Heddi read her book! In the evening we often go for a short stroll. This evening's stroll seem to get extended and finished as a 3 mile walk along the towpath to Stewponey lock and back across the fields and through the woods.
Monday morning – packed, cleaned up and left for home.