A long and tiring day today. We called Gloucester lock and asked to be locked down at 8:00. Because of the current low-water restrictions we had to wait until 8:45 in case any other boats wanted to go as well. There were a few other boats about, but no-one had appeared by 8:40 so we went down on our own. There wasnt much flow on the river so we made good progress, about 4mph up to the parting, then around 5mph on the main river. A quick stop for a cooked breakfast at Lower Lode and then settle down to the long boring plod up to Worcester.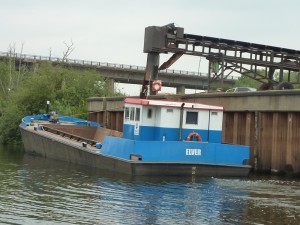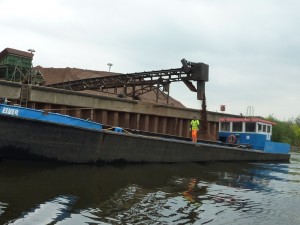 Commercial traffic on the river
From Diglis onward we shared all the locks with a Black Prince boats crewed by seven young men. All male crews on hire boats have sometimes caused problems with too much drinking and dangerous activities, but these were great, helpful and courteous, and we had a natter with them in each of the locks.
We had hoped to moor on the river at Stourport, but there was no space. No space in the basin either, and only one space above York St lock. That was right outside the noisy "Black Star Inn". So we left it for the guys on the Black Prince boat and carried on round to Mitton, where we just about squeezed in before the old railway bridge.