A mixed day today. We started off on the wide & straight Aire & Calder canal.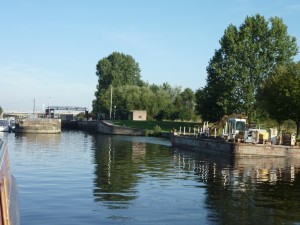 At Bank Dole lock we moved onto the River Aire. As we approached the lock another boat was coming the other way. The lock was empty, set for them, so we let them through. But they had absolutely no idea how to work a lock. The boat had recently been bought by the parents as somewhere to live for their student daughter. The dad ("I have lots of experience sailing on the south coast") insisted that the daughter steer the boat. She was clueless!. None of them had any idea what to do with the paddles, gates etc. It took them 35 mins to lock through with my help!
The River Aire was lovely, with lots of twists and turns Around one of them we were faced by a speedboat pulling a waterskier!
Then we locked through onto the Selby Canal. It was like being back on our familiar surroundings, much like the Midlands canals.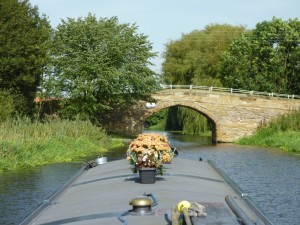 A call in at Selby Boat Centre for Diesel, a pumpout & gas turned into a marathon! It took them 1.5+ hours to do a pumpout. Their pumpout machine is of the same design as used by Noah on the ark!
Now moored in Selby basin. Tomorrow we lock out onto the Ouse, but we can't go until high tide at 2:00, so we won't have time to get to York. We'll moor overnight at Naburn, then on to York the day after.