It's been REALLY hot today. An early start, then stop when it got too hot, was the plan for the day. It gets difficult to find good moorings after about two o'clock anyway. So we had breakfast and were away before eight. We soon arrived at Boulter's Lock in Maidenhead. This is the subject of a famous painting from 1885, the scene was very different this morning. We arrived before the lock keeper came on duty, there was a narrowboat going down, but other than that we were on our own. Through Maidenhead and Bray past lots of very smart, expensive houses (how the other half live !) and then a fairly rural, quiet stretch to Windsor. Surprisingly there were lots of good free moorings in the centre of Windsor, but we didn't stop.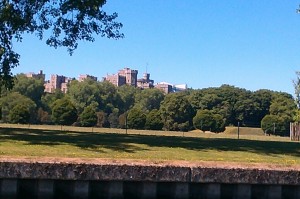 After Windsor the river curves round "The Home Park".  This is a Royal park adjacent to Windsor Castle. Here there were lots of what could have been good mooring opportunities, but there were signs saying "Royal Park, No Mooring" To moor there is apparently an offence under the 'Serious and Organised Crime Act'.  Does Her Maj think that us boaters are all members of the Mafia?
We carried on down to Old Windsor and moored up at about 12:30 just near Runnymede Meadows. By now it was really hot, our mooring was in the shade so we just rested for the afternoon.
In the evening we went for a walk around the meadows and visited the Kennedy Memorial and the Magna Carta Memorial.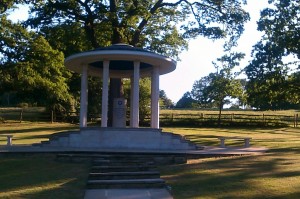 Currently there is also an artwork by Hew Locke called "The Jurors" consisting of 12 bronze chairs each one decorated with images relating to past and current struggles for freedom around the world.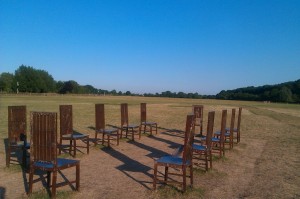 On The Thames you see craft of all sorts, this afternoon a floating shed came past!