We are in our usual spot in the Reading Gaol loop. Right at the end, tied up to the railings. The only other space was near the noisy road.
Again it was a 7:00 start. Most of the day we were on our own, but we did share Fobney and Burghfield locks with a hire boat. He hadn't been on a narrowboat since 'the 1970s' and she was completely at a loss. At one lock she asked me if we were going 'up or down' !
The weather has been mixed, with a few short, light showers, but generally dry.
Reading makes good use of the Kennet waterfront, which is lined with eating and drinking places, even an Hawiain beach bar, conplete with sand!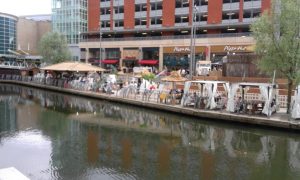 The Kennet navigation is a delight. With alternate artificial cut and river sections it's very attractive. We  have seen lots of wildlife. As well as the usual ducks, geese, herons, crows, pigeons, blackbirds etc. We have seen little egrets, red kites, jays, green woodpeckers, reed warblers, yellow wagtails, and something that may have been an otter. It could have been a mink, but it seemed to big.