15 miles, 3 locks.
Another early start because of the hot weather. We knew that we wouldn't need to do many locks today, but we wanted to get a few miles 'under our belt'.
The second lock of the day was unusual for two reasons. It only has a rise of 1 foot and 1 inch. I have heard stories that when the canal was built two teams worked from each end. When they met in the middle the levels were out, so they put in a lock. I dont know if this is true or not. The other unusual thing is that there is a swing bridge over the lock. This old sign relates to the bridge.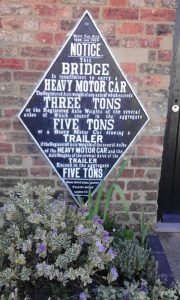 The canal winds and twists on the level all around Milton Keynes, then crosses the valley of the Great Ouse on a large embankment. The river is crossed by the 'Iron Trunk Aqueduct' . This was the third attempt to cross the river. The first wooden aqueduct fell down. It was replaced temorarily with two flights of locks whilst the present aqueduct was built.