An early morning start, we were away by 6:05. The bookable moorings at Rembrandt Gardens are available from 1:00pm. So the early start was to get us there by early afternoon. We came down the lower Lee fairly quickly. The last two locks are hydraulic and electrically operated, so we didnt have to do any work until we turned onto the Hertford Union. Here we were met by a huge waterfall coming over the bottom gates of the first lock . The next two pounds were very low as someone had left the top gates open on both of the next locks. I walked up to let some water down and met a C&RT guy who was already onto it. He asked if we could wait 15mins or so to allow the levels to settle, so we washed the side of the boat whilst in the lock.
Last time we came this way there was a lot of construction going on around the old gasholders. It's now finished and looks good.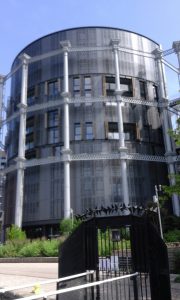 We arrived at Little Venice at about 12:30, went over to the services, did a pumpout, topped up the water and then reversed back to our mooring and waited for Andrew & Sheila on Uncle Mort. They arrived about 1:30. We all had a cup of tea and a natter then went food shopping. The evening was spent eating, drinking and nattering.