We were awoken in the night by some loud young men from a boat about 100yds away who were swimming across the river at 4:30 in the morning!
A lazy start today. We got up and went for a walk along the riverside to the bridge below Colin P. Witter lock and back up through the churchyard. When the building work is finished you will be able to walk along between the river and the theatre, but at the moment it's a building site. In Bancroft gardens there was a street market selling a wide range of upmarket stuff, mostly for the tourist trade. We whiled away nearly an hour here then when back to the boat for a cooked breakfast. After a while relaxing, sitting in the sun, soaking up the atmosphere, we topped up the water and headed back downstream.
The afternoon was warm and sunny and we had a great run down to Bidford, more enjoyable than the trip up without the pressure of the day before.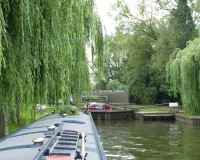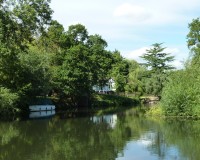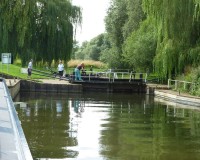 We arrived at Bidford about 15:30, it was a lovely afternoon so we had a Pimms sitting at one of the picnic benches. Later, after a short walk around the village, we had a barbecue in the warm evening air.