For the past three days we have been at the Cutweb rally. Much chatting, drinking and eating was enjoyed by all.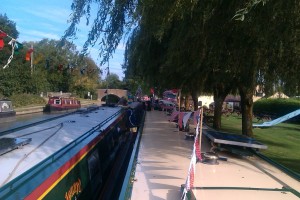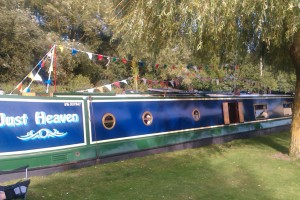 At about 7:30 this morning we started untangling JH from the other boats. We had already agreed with Brian on Harnser (http://nbharnser.blogspot.co.uk/) that we would go with them at eight o'clock to share the locks up the flight.
We were all ready a bit early, Pat went ahead and set the bottom lock while Mike and Alan cast off (they were due to go before us), while they were doing this a hire boat came by and went straight into the open lock. Neil meanwhile winded and came back past us as we were extracting JH  from the inside two others to go up next. So Neil passed Mike and Alan who were sitting outside the bottom lock to share with the hire boat. The result being Neil and the hire boat went up in double quick time, followed by Mike and Alan, right behind them was Brian and myself. Even after all that we were probably in the lock about 8 am. With all crews working together and with Andrew and Dylan the dog acting as roving crew,we went up in good time on a damp and drizzly morning.
On Saturday morning a car shuttle had placed Simon's car at Marston Doles, so they crewed with us until we reached there.
The rain mostly held off until we got to Napton top lock when there was an enormous downpour. I got soaked sheltering under the hedge holding the boat on a rope.