Recently at the Cutweb rally Tony Brooks (www.tb-training.co.uk/) noted that he thought our rudder was loose. I had noticed it appeared to wobble slightly as you went from left to right. After talking it over with various people it seemed the likely problem was the two bolts holding the rudder on to the shaft had become loose. I checked the photos we took when the boat was in dry dock and could see the two main bolts, plus a third 'tightener'.
We had planned a weekend cruise with friends Jan & Mike so I booked into the slipway at Clattercote wharf for the preceding Wednesday. I told Richard at the slipway that we would only need an hour or so as all I had to do was tighten up some bolts.
The slipway is only a few hundred yards from the marina. We arrived at about 10 o'clock. It took quite a while turn the boat around to get it the right way to go up the slipway. I had thought that we could go up stern first, but Richard advised that that wasn't safe as the water could come in the front through the deck drain holes.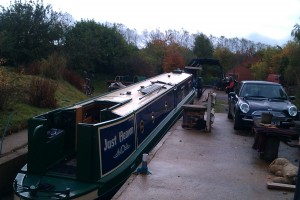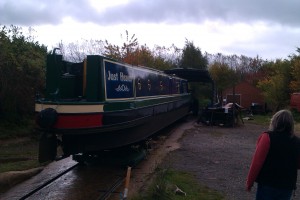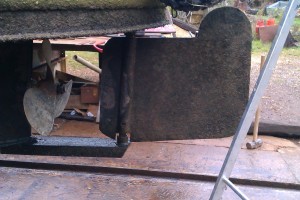 It was clear, once the boat was out of the water, that it wasnt a problem with loose bolts at all. The bush on the skeg (at the bottom of the rudder) was badly worn, so the shaft was loose and wobbling around.
This meant it wouldn't be just a short job of tightening bolts. Richard agreed to cancel his plans for the day and help us get it fixed. First a ring round various of his contacts to see if we could get a bespoke bush made today. Luckily a small engineering firm in Braunston said they could do it.
The next problem was getting the rudder off. We had removed the two main bolts and the third tightener, but though it was loose, the rudder wouldn't come off despite much heaving, levering and hammering. We then realised that the third bolt had sheared off and the tip was still inside.  So Richard decided that we would need to saw it off and weld a new one back on.
So after a trip to Banbury for new bolts, a hole saw and a new top bearing and then to Braunston for the new bottom bush, Richard started work cutting and welding.
It was dark by the time all the work was finished and we slipped back into the water by torchlight.