We arrived last night just before six and stayed on the mooring. We have friends Jan & mike with us for the weekend.
The weather looked good so we were away just after eight this morning. Though the sun was shining it was a little cool at first as the canal is tree lined for a lot of the way. A stop above Stewponey lock for water proved abortive as somehow we had lost the screw tap fitting for the end of the hose. Mike and I tried various combinations of the fitting we had to achieve a leak proof connection, but to no avail. We decided to go on to Greensforge where the water point might have a push on connection. The weather was now getting quite warm and we were making good progress with most of the locks in our favour, but we saw very few moving boats.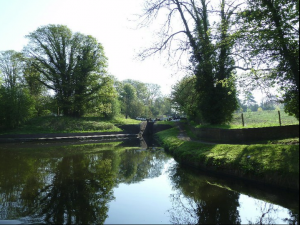 There was no queue at Bratch so we went straight up, winded just below Dimmingdale lock and came back to just below Awbridge lock. We stopped here because we had planned to go to the Bell Inn at Trysull for our evening meal.
We walked into Trysull via a footpath over the fields to check out the pub. It was a lovely sunny afternoon and there were many people sat outside the pub drinking. We stopped for drink and then walked back.
The rest of the afternoon was spent relaxing on the towpath. Then in the evening we walked back into Trysull for our evening meals, which were excellent.