As we still had another day to catch up on the schedule we left early, before 7 o'clock. Another lovely warm sunny day took us down to Stratford. Again the were lots of boats about, and again we got into a queue at locks. Firstly behind a boat full of teenagers on an 'experience' weekend. When they stopped for water we were in another queue. This time behind two Anglo-Welsh boats with a party of Americans onboard.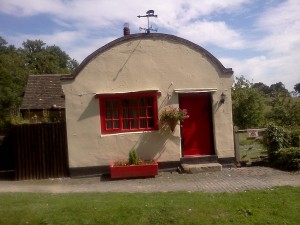 On arriving in Bancroft basin the Americans got one of their boats into a bit a pickle while trying to moor in a space that was considerably shorter than the boat. We breasted up with one of the traders boats and watched the fun. Eventually they decided that there wasn't room for them in the basin and they went to buy licences for the Avon. I also got a licence and expected them to go down together, but they didn't. So I suggested that we go down with the second boat. We found a good spot opposite the RSC. At my suggestion they breasted up their two boats a little further along.
As usual Stratford was bustling and busy with tourists & day trippers until about 6 o'clock when it went quiet.
We had an early wedding anniversary meal at Cafe Rouge.