Another long day today, 10 miles an 28 locks.
A really good boating day, lovely warm sunshine and lots of boats about with people to natter to at locks. Again we set off fairly early and reached Lapworth top lock at around 10ish. There was a queue of three boats ahead of us. The boat immediately in front was an Anglo-Welsh hire boat with a dad, mum & teenage daughter. The dad did all the steering and most of the lock work. Mum didnt seem to know what she was supposed to be doing (and looked like she didnt want to break her nails!), the daughter seem to have more idea, but less enthusiasm. We followed them down the first 18 locks then they stopped for water. Several of the boats in the queue joined the Grand Union at the junction, so we were only in a queue of one from then on. This was a man and his wheelchair bound wife on an Alvechurch boat. As he was effectively single handed we did the bottom gates and paddles for him at each lock.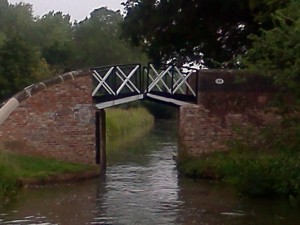 We had arranged to meet our friend Bob at Lowsonford, at the Fleur de Lys pub. There was very little mooring space when we arrived but we squeezed in a space with a few inches to spare.
A great evening was had catching up with Bob & John.
During the day I had found someone in Stourbridge who could fix the car, and made an appointment for him first thing Monday morning. That meant that we had to be back in Kinver a day and half earlier than we had planned.