After 30 days, 200 locks, 231 miles of canals and 216 miles of rivers we are back where we started. We were slightly delayed as only 2 miles and two locks from home we encountered a queue of about 10 boats. A tree had fallen across the canal yesterday, but the C&RT workmen only turned up today to clear it out of the way.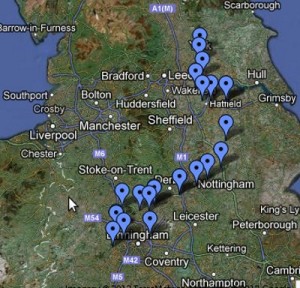 It seems a little odd to back here not planning tomorrow's trip. We will be back soon for a maintenance session. The outside of the boat has suffered a little with the journey. In particular there is quite a bit of paint touching up that will have to be done. most of this was caused by the Trent locks. These have rough concrete sides. You have to rope up and hold quite tightly because of the strong water flows, so this inevitably means that some paint gets lost.
We have had a wonderful time and really enjoyed the journey. Time to start planning the next one !