A long day today. We were out of bed by 6:20 and on the move before dawn at 6:35.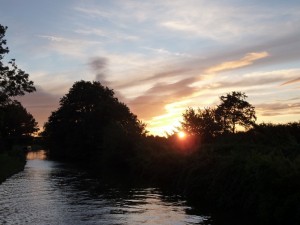 The weather forecast wasn't good, but it wasn't raining so we thought we'd get going while it was dry. I was glad we had got across the Trent yesterday as this morning it was in the "amber". A steady progress up to Fradley Junction where we topped up with water and had breakfast. Then off down the Coventry canal. We haven't been this way since 2006. It was odd, some things triggered memories, other parts we couldn't remember at all.
This part of the Coventry canal wasn't built by the Coventry Canal Company as they had run out of money, but was built partly by the Trent & Mersey company and partly by the Birmingham & Fazeley company. This is reflected today in the different bridge name/numbers [End of canal history lesson!]
A short distance after turning onto the Birmingham & Fazeley we called into a marina and topped up with diesel and had a pumpout, then carried on towards Birmingham.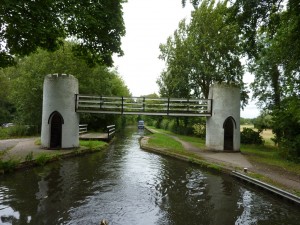 The recent rains have cause a lot of flooding hereabouts. The Kingsbury Water Park had overflowed into nearby farmland.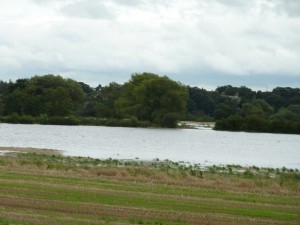 It started to rain about 2:30 when we were partway up the Curdworth lock flight, but we pressed on to moor up near Curdworth tunnel at about 4:30.
For regular readers of this blog (are there any?) you will get another chance soon to vote on boat colour schemes !