We are moored outside the Black Country Living Museum.
It's been a long day with lots of contrasts. We started out early again, before seven o'clock to try to beat the weather. Three more locks of the Birmingham & Fazeley canal and then we turned onto the Tame Valley canal. This junction of the Birmingham & Fazeley, the Tame Valley and the Birmingham & Warwick junction (Saltley cut) canals is underneath Spaghetti junction of the M6 and A38(M).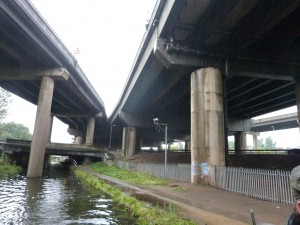 The Tame Valley canal was much nicer than we had expected. It skirts around the northern suburbs of Birmingham, but is surprisingly rural. The Perry Barr flight of thirteen locks are very well maintained making life easier for the few boaters who venture this way.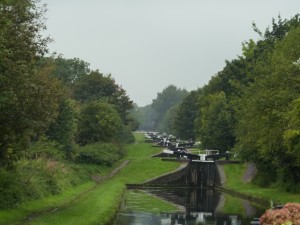 An interesting feature of these locks (well interesting to boaters anyway) is that the top paddles are connected via a conduit to the tail of the lock. So when you fill a lock it fills from both ends. This means that there aren't any swirling currents to move the boat. No "pull", the boat stays still in the middle. The Tame Valley was built late in the canal era, so this must have been an idea the 19th century canal builders learned from the mistakes of their 18th century colleagues.
Later the Tame Valley canal goes right through the middle of the M5/M6 junction. At one point going over some of the slip road between the two motorways.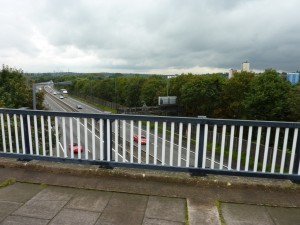 We then turned onto the Walsall canal. This wasn't so attractive. The water was black and oily in places and very shallow. A short trip along the Birmingham old main line brought us to Dudley.