After a wonderful weekend at the wedding we set off back for home.
The Naburn lock keeper told us to be there at 9:30 so we left York at about 7:45. He warned us that, because it was a high spring tide, it would be fast, and getting into Selby lock might be tricky. We pushed against the rising tide for about an hour, then it turned and before long we were flying along! The current past the lock entrance was very fast. I left the turn a little late and was about a boat length downstream by the time we had completed the turn. With lots of revs we crept back up and in without mishap.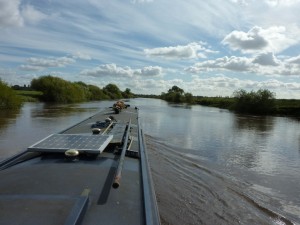 The Selby canal was much more placid by comparison. On to the River Aire, which was on "amber", but no problem at all. By now the wind had picked up and was blowing strongly. A short chug along the Aire & Calder canal to Whitley Lock, which is a pleasant mooring we knew from the way up.