It had rained on and off during the night, and the weather forecasts for today weren't too good. Metcheck said rain most of the day, but BBC Weather just said grey skies, so we chose that one (and they were right!). Another early start, we had breakfast and were away just after 7:00. The locks today were much easier than yesterdays. Most of them had ground paddles at the top end rather than gate paddles. These create much less turbulence when filling the lock, so holding the boat on a rope is far easier.
We came though the centre of Newbury just before nine o'clock. It looked very quiet considering that it was a Saturday morning. There were some nice looking moorings there that we made note of for our return journey.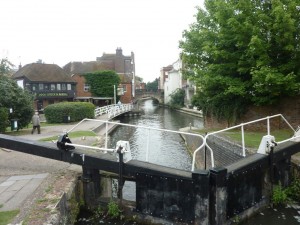 We were making good progress and passed tonight's stop, according to our planning schedule, during the morning. Lunch was taken at Kintbury, then a pleasant afternoon's chug onto Hungerford which we reached at about 3:30. The main Bristol to Paddington railway line follows the canal very closely along this section, so we chose the overnight mooring site with care in order to get a good night's sleep.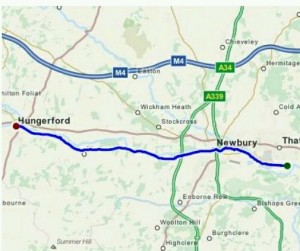 12 miles & 16 locks today.