As we need to be back home by Thursday we had decided to make an early start. As I was untying at just after 7:00 Graham from Jannock popped his head out and said that Neil & Linda on Earnest (yes that one, not the other one) had already left about half an hour ago.
Graham helped me to manoveur  out from the raft of boats and we headed off.it was very misty, at times it was difficult to see where we were going.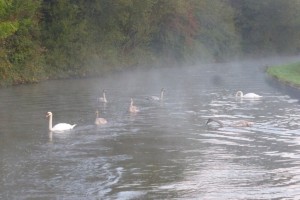 Lots of bird life about including these two herons who kept flying in front of us,landing then flying off again.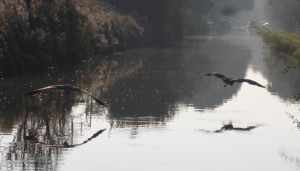 As we started up the Atherstone flight we could see Neil on Earnest a couple of locks ahead. Our progress up the flight was impeded by two CRT volunteers at the bottom who wouldn't let us work the locks efficiently the way we normally do. But at the top two more volunteers were very helpful in preparing a lock ahead for us. It seems that some of these volunteers need more training as they appear to know little about actual boating.
We waved goodbye to Earnest as they turned up the Ashby and we carried on to Ansty.
Previously when we have stopped here there has been plenty of visitor's mooring between bridges 14 & 15, but now these have been made "Permit Holders Only", but they are empty.